All of our guidebooks highly recommended a single front country hike in the Santa Barbara area: A hike up the Tunnel Trail towards Inspiration Point, apparently rewarding the steep, uphill journey with breathtaking views of the city and coastline. None of the above, however, were willing to tell us how to get there. After quite a bit of googling, we discovered that we had not one, but two routes to Inspiration Point, a 'Tunnel Trail' and another trail called the 'Jesuita Trail'. The trails were both supposed to be gorgeous, too, passing through thick wilderness with occasional sweeping views of the city.
Once we reached the base of the wilderness, we discovered that not only was the trail closed and parking severely restricted (at this point our only conclusion is that Southern California hates hikers), but we appeared to be in the wrong place. We couldn't see a single bit of thick wilderness, and no living plants more than two feet tall. In fact, the entire wilderness looked rather like this: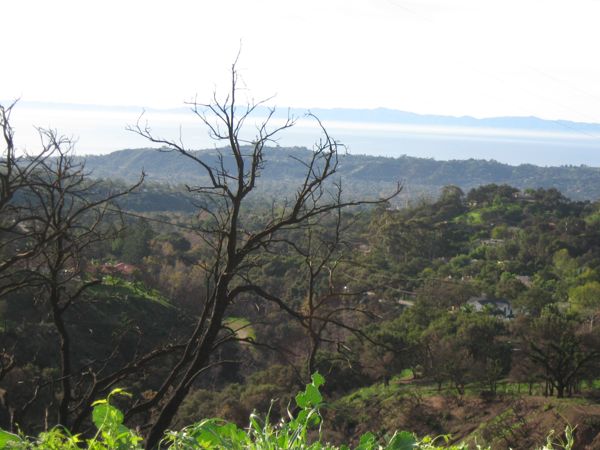 While this was quite pretty, we decided that we had actually stumbled upon a different trail, one that had been through a rather rough time of late. All the signs were caked in mud from landslides, and the road was littered with dead branches (also caked in mud). We did have the promised views of the city, though, so we tarried on up the trail.
A passing hiker informed us that we were indeed on the right trail, and that the locals were ignoring the 'trail closed' signs. She gave us some directions to inspiration point, although they were vague enough that we kept going the wrong direction. We did end up with some great vistas, though, including:
We continued up the mountains until we found a sign that actually indicated the Jesuita trail. By this time, though, we were a bit pooped and after a bit of wavering, decided to turn back. Urmi wasn't well equipped for a three or more mile uphill hike in the burning sun (and I probably should stay out of the sun alltogether), so it was probably for the best. About here we ran into another group of inspiration seekers who had apparently been more successful than we were. Highlight of the trip? Their response to our question:
I have no idea where Inspiration Point is, but if you go up thataway, you'll definitely be inspired. Just keep at it.
Here are a few more photos from our quest:
Our next quest was to treat Santa Barbara as right-and-proper tourists, and visit all the things with Santa Barbara in their name, such as the Mission and Courthouse.