Our first stop was to a presumably secret overlook above Hollywood, right off of Mulholland Drive. However, much to our chagrin, we discovered that the lookout was not only well known, but completely devoid of parking. One of the 'Star' tour companies took their groups to the overlook as well, and they had occupied nearly every square inch of the parking. Those tours are a real ripoff, too -- $60 a head to ride in the back of a modified van? We didn't pay that much to go see humpback whales in Hawaii. Our guidebook (thanks library) probably told us nearly as much as the tour companies, and all without the stalking atmosphere.
Anyways, the overlook gave us some incredible views of the city, including the famous Hollywood Bowl (which I had never heard of?) and some other landmarks. We aso picked up a better picture of that infamous sign, making me regret elbowing everyone out of the way down in the mall. I also wondered why more people didn't, you know, go someplace else to take their endless snapshots of the sign?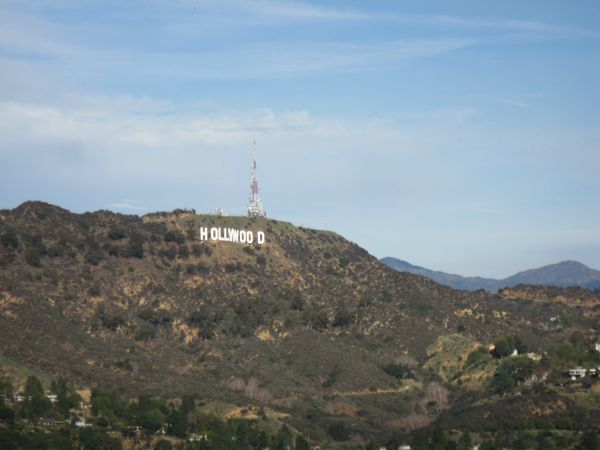 After Hollywood, we were planning to meet up with a couple friends for dinner. We had a few hours to kill in LA, so we decided to head to the Santa Monica pier. Urmi had read that a park in Santa Monica was supposed to be a beautiful place to watch the sunset, but with the New Years crowd, there were simply too many people to get anywhere. We ended up getting part of the way out into the pier before it was time to leave. We did get some nice shots of the beach back towards LA, though.
And my personal favorite, yet another Seagull. We had some remarkably cooperative birds in LA.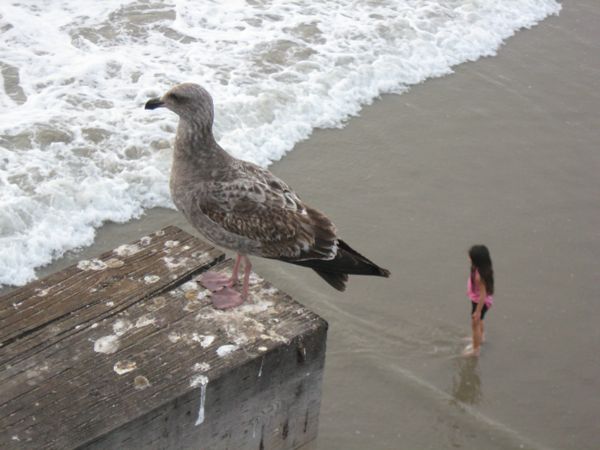 Eventually, we turned back towards downtain LA to meet our friends at USC. We got there just as the sun was setting, which gave us some great photos of the area.
And that capped off our second day in Southern California. On the third day, we get back to more outdoorsy pursuits, including hiking in the Jesuita wilderness over Santa Barbara.