Our final time in Santa Barbara was spent out on Stearns Wharf, where we found a great place to eat dinner (after El Capitan) at a shellfish house. This place was incredible -- their entire menu was made with local crab, lobster and other crustaceans. Most of the items on the menu were sold by the pound. I couldn't talk Urmi into the four pound spider crab meal for two, but maybe next time. Most of the restaurant was full of tanks of live crabs, lobster and abalone. The pictures didn't turn out great, but here's a local rock crab: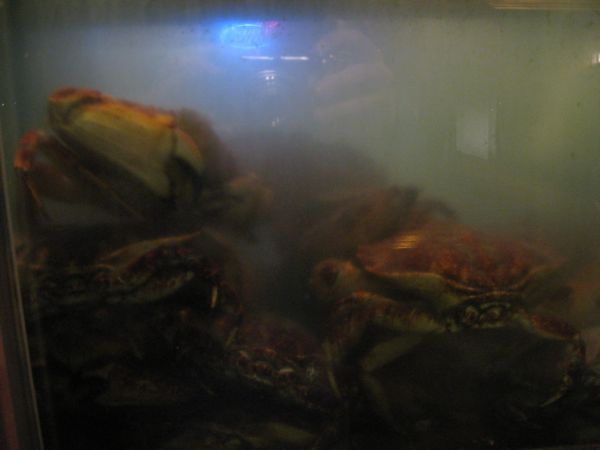 The next day we hiked back out to the wharf (to the exact same restaurant, in fact) to see the Channel Islands and wharf. Along the way we passed a bizarre protest against the Iraq and Afganistan wars. I don't agree with these wars, but I wouldn't expect Santa Barbara to be a really right-leaning town. The protest had assembled a graveyard on West Beach, right next to the wharf.
Anyways, coffee in hand, we got some great photos from the end of the wharf. The channel islands are tough to see in a photo, but they were obvious in person.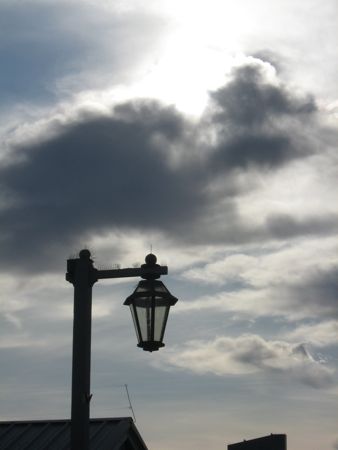 Eventually, we had to leave Santa Barbara if we were to make it back in time for me to pack and head back to DC. Along the way we stopped in a little town (which they insisted should be called a 'village') called Solvang. Solvang was originally founded by Danish immigrants, and the entire city has been built in a Scandinavian style:
Note the sloped roofs -- perfect for those heavy, Southern California snowfalls. The lower building housed a Subway and a liquor store. It was pretty much just the shops which looked like this; a few of the houses continued the architecture, but not very many. The highlight of Solvang? We found a restaurant which sold Aebelskivers, a danish pancake shaped roughly like an egg. We make them better at home, but it was exciting to see a restaurant selling authentic scandinavian dishes that don't involve meat and gravy.