On our next day in Santa Barbara, we opted to head into LA, mostly because Urmi had never been there and I don't remember a thing about when I went there (at the ripe age of six or seven). We several guidebooks with us (courtesy of the Peninsula Library System), none of which really suggested the sort of LA trip we were interested in (seriously, these books were suggesting tours of LA called 'As Seen on TV' -- a tour of only the LA landmarks seen in TV shows), so we sliced up a couple tours from different books and ended up with a more outdoorsy trip to LA.
Malibu Canyon
Our first stop was Malibu Canyon State Park, a somewhat overpriced part of the 'As Seen on TV' tour. The park consists of land formerly belonging to Ronald Reagan, Bob Hope and Fox Pictures, who filmed MASH, Swiss Family Robinson and Tarzan on the property. After wandering aimlessly through the park for a couple hours, we finally found the trail we were looking for, but only via the process of elimination. (What's with So Cal parks and missing trail markers? We couldn't even get a map of this place.) This wasn't a complete loss, however, since we were able to get some great views along the way.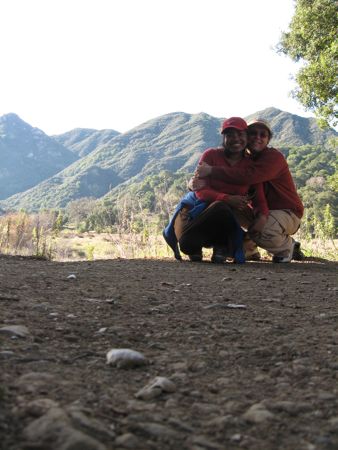 The trail snaked back into the canyon onto property formerly used by Fox. Our goal was a rocky pool back by the canyon, which, according to our guidebook, was the setting for Swiss Family Robinson. A very pretty place, and not exactly what we were expecting less than ten miles from the LA outskirts.
Once we finished with our hike (and after we managed to get lost on our way out, our trail forcing us to cross a creek), we decided to continue following Malibu Canyon road down past Pepperdine University into Malibu itself. The canyon was very picturesque, but we didn't get any opportunities to actually stop and enjoy the scenery. Our only photo came from a turnout we used to let other cars pass us.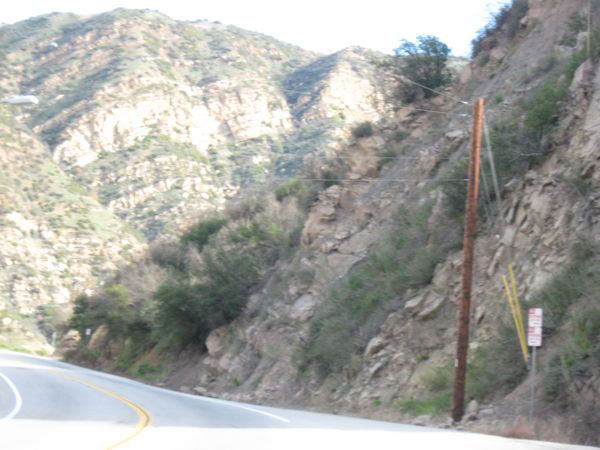 Once we hit the coast, however, it was a completely different world; considerably more people, all of whom just had eyes for the beach. The LA beaches are pretty, of course, but none of the people passing seemed even aware of the pretty canyon just a few miles to the north.
We followed the Pacific Coast Highway into LA, passing through locales such as Santa Monica, Hollywood, and others. Along the way, I picked up a great picture of one of my favorite subjects -- Seagulls:
This gull doesn't care a thing about our photographic habits. I love it. Anyways, after Malibu, we decided to head to our next tourist stop in LA, the Hollywood and Highland area.