Hello and welcome to a new feature on my (mostly dull) blog. Since Urmi and I love to travel, and we're new to the whole California thing, I'll be writing up brief blurbs on each of our trips, along with photos. I love to take pictures (and sometimes they even turn out well!), so this will let me do more with my photos than just emailing them out.
Anyways, our inaugural post will cover our holiday trip to Santa Barbara and LA (more of Santa Barbara, I suppose). On our first day in Santa Barbara, we decided to explore the water front. Santa Barbara has a beautiful biking/walking/surrying path along the waterfront, including both East and West beaches as well as a route into the mountains.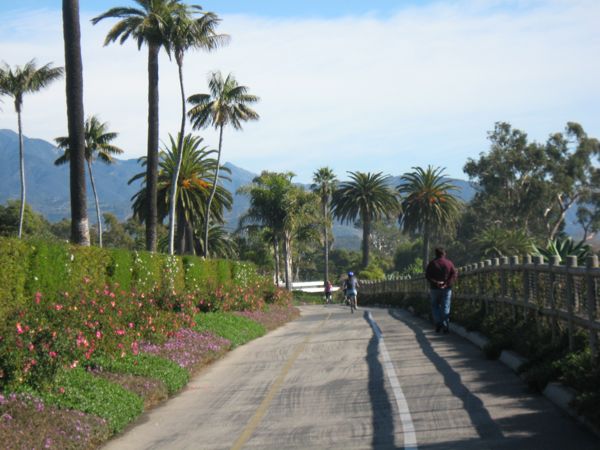 Along the path
Neither of us is really a 'beach' person, so we explored on bicycle, many of which are available for rent along Santa Barbara's state street. We also saw several families rent the SUV of bicycles, also called a surry. Not entirely sure how well these things work, especially for the many hills in Santa Barbara. We ended up with mountain bikes.
Me with our bikes
After biking along East Beach (the trendiest and hippest of Santa Barbara's municipal beaches), we ended up past the zoo, through the cemetery and in a less crowded beach called
Butterfly Beach
. We had been told that this was reachable only via bicycle and foot, but that turned out to be a lie -- there were dozens of cars along the road directly above the beach. Getting away from the main drag helped reduce the crowds, though.

Urmi at Butterfly Beach
Since we weren't well equipped for beach combing, we decided to head back towards the city and to the other side of West Beach. Here we reached the western end of the waterfront trail at Shoreline Park, which gave excellent views of the waterfront, East Beach and downtown.
View of the City from Shoreline Park
We took the above photo with our new photography toy, the 'Gorilla Pod', a bendable tripod for point-and-shoot cameras. This thing was great -- you can attach it to trees, fences, benches, or just use it to level the camera on uneven terrain. We got a variety of great couple shots with the tripod. Anyways, the above photo gives a great view of what the waterfront looks like. Behind us is a path leading down to yet another beach, this one quite popular with surfers.
After this, we were both too sore from biking around to consider biking up into the rest of the city. The remainder of the city was also quite lacking in bike paths, which made us want to move on to greener pastures, namely into the hills over Santa Barbara to see Cachuma Lake.