Urmi and I always go overboard for Thanksgiving, which is bizarre given that I can't even eat Turkey, and Urmi isn't a big fan. This year, we decided to cook no less than eleven dishes, ranging from a Tofurkey roast to
both
pumpkin and pecan pies. To immortalize our efforts, I decided to write about our oversized meal on the blog.
The Tofurkey
- Contrary to popular belief, a Tofurkey is not a Turkey made from tofu. Rather, it's a blend of tofu and wheat gluten -- both vegetarian sources of protein -- to produce something with vaguely the same texture as a turkey. Look for more of this in the future. I thought this was a win, but Urmi hated it.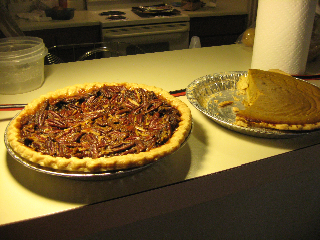 Our Pies
- The pumpkin pie was obviously edible, but the pecan pie was the undisputed winner of the contest. I discovered that using
dark
brown sugar and
dark
corn syrup is the secret to making an awesome pecan pie.
The Feast
- Urmi with the full feast: Beans, Asparagus, apple cider, tofurkey, salmon, garlic mashed potatoes, vegetarian gravy, and, my personal favorite, mashed sweet potatoes.
Anyways, probably going to post recipes for some of our dishes shortly. Most of these originated elsewhere, but we've modified them extensively enough that I think they're our recipes now. Until then, enjoy the photos and try not to drool on your keyboard.