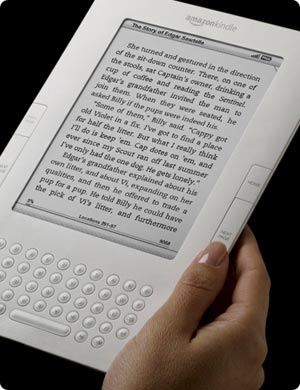 (Source:
Amazon
)
So Amazon has finally unveiled their upgraded version of the Kindle. Urmi bought me one of the original editions of the Kindle and I absolutely love it. For me, it's well worth the price tag -- I read so much that I may actually be saving more than the Kindle's original (admittedly hefty) price tag. When you throw in free books available online (such as from
Cory Doctrowow
,
the Mobile Read forums
, and many more), ebook readers such as the kindle become even cheaper. However, I don't think I'll be upgrading unless my Kindle suffers some sort of unforeseen catastrophe. The new one looks great (check out the comparison with a pencil), but I like my current one quite a bit. I actually quite like the larger buttons and the wedge-shaped chassis. Etexts are small enough that I think I'm still well short of the original, built-in space, although I did purchase a 2GB expansion card for it. Anyways, I'll be excited to see what comes next for etext readers such as the Kindle. Maybe the Kindle 3 will be the etext reader that ends up cornering the market -- I don't know if the Kindle 2 will be able to do it quite yet.